Design | Illustration | Direction • Event Signage / Merch / Logo + Palette Refresh / Advertising Elements / Social Media Templates / Digital Screens / Instagram Story GIFs / AR Face Filters / Animated Title Cards
"Since 2007, Sled Island's thoughtful, eclectic programming and independent spirit have produced a one-of-a-kind festival experience. Each June, the five-day music and arts festival brings together a community of music, comedy, film and art as well as over 40,000 attendees across multiple venues, earning rave reviews from attendees, artists and media across the globe.
Sled Island 2020 was officially cancelled due to the COVID-19 pandemic. Due to the uncertainty surrounding restrictions in Alberta, Sled Island was not able to return in full force in 2021. In an effort to have a safe, scaled-down event, we introduced Camp Sled Island - a three-day, in-person event primarily featuring video programming, which ran August 19-21 at Beltline's High Park. This included pre-recorded performances, film screenings, special guest video appearances, and animated shorts displayed on a big screen, as well as a live music pre-show each night." 

— Sled Island 
The concept behind the visuals for the Postcards From Sled Island poster came from the life changes and social distancing and isolation in ways that could be felt by everyone through the pandemic. The poster was designed to be a reflection of a memory box - sentimental items you might find from a nostalgic pastime with people you love with the added depth of each item being a clue to an event, act or feature that was in store before any formal announcements were made.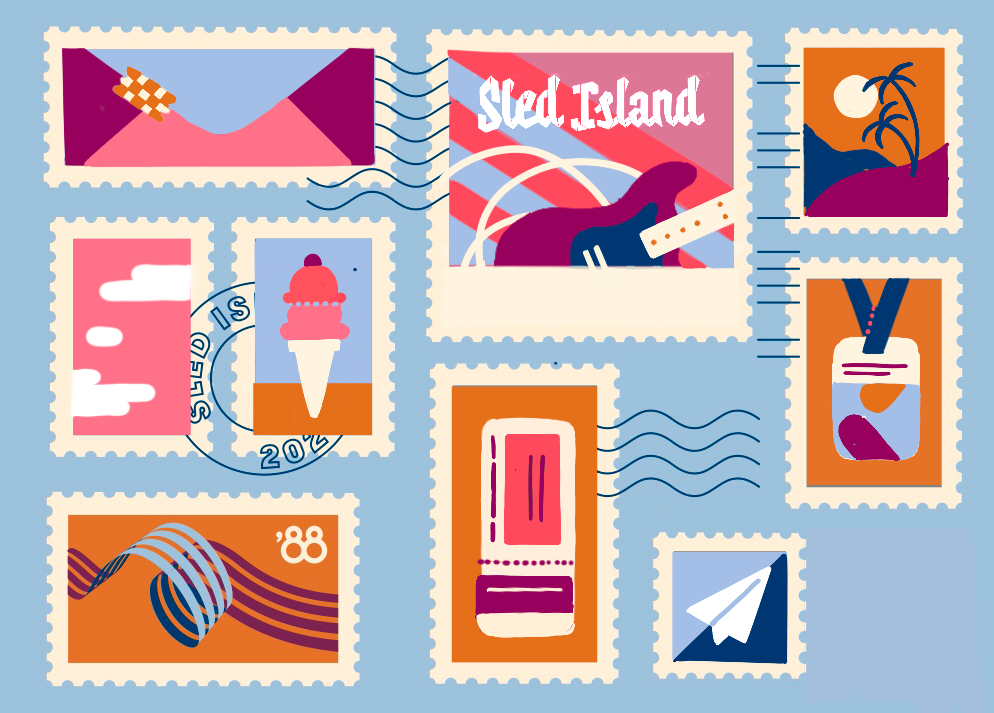 As a surprise for all of the Camp Sled bands, I wanted to make a series of postage stamp illustrations to represent each musical artist featured for that year. I ended up using the illustrations to create a fun AR randomizing face filter on Sled Island's Instagram page. This application was a great tool to boost engagement, awareness and excitement online before the in person events. It felt like the perfect tool to get to introduce people to local artists in Calgary they may not have been familiar with by using the Instagram filter.